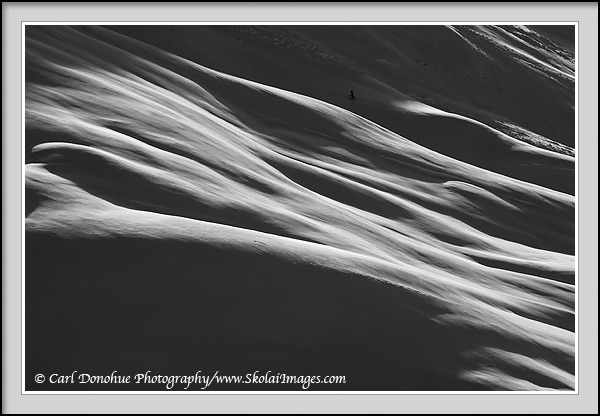 Hey Folks,
Winter's right 'round the corner, so I thought I'd post a shot from last winter. High on a mountainside in the Wrangell Mountains the wind had swept the snow into some really cool patterns of ridges and valleys. I loved the curves in this scene, and with some nice dramatic side-lighting right before sunset (around 2:30pm), this scene was cooler than cool. Cooler than being cold, in fact. For scale, you can see a lone spruce tree in the background, shaded by the rising ridge beyond it.
Funnily enough, the temperature up on the hillside was markedly warmer than down at the Shack. Everytime I ventured up on to the mountains, the temperature was noticeably warmer. Folks tell me the inversion is simply because warm air rises and cold air drops, so down into the Kennicott River basin it goes. This doesn't seem to happen quite the same way in warmer temperatures, though, when the mountains are much colder than lower altitudes. it's tricky stuff.
Anyway, I converted the image to black and white and liked it enough to post it here. I thought it might be nice to show this scene after my Mt. Blackburn shot yesterday. To me, there's a very sensual aspect to this photo – some might say mountains can't be sensuous, and to those folks I say "You don't know mountains". Walt Whitman did:
"Press close, bare-bosm'd night. Press close, magnetic, nourishing night!
Night of south winds! night of the large few stars!
Still nodding night! mad, naked summer night!
Smile, O voluptuous, cool-breath'd earth!
Earth of the slumbering and liquid trees!
Earth of departed sunset! earth of the mountains, misty-topt!
Earth of the vitreous pour of the full moon, just tinged with blue!
Earth of shine and dark, mottling the tide of the river!
Earth of the limpid grey of clouds, brighter and clearer for my sake!
Far-swooping, elbow'd earth! rich, apple-blossom'd earth!
Smile, for your lover comes!" – Whitman, "Leaves of Grass".
Thanks.
Cheers
Carl