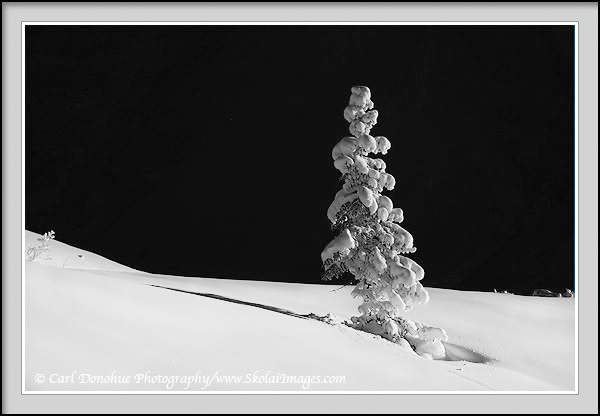 Hey Folks,
Today was pretty dreary weather here in Alaska, so I thought I might go with yesterday's theme of black and white winter landscapes. I shot this lone snow covered spruce tree one afternoon last January. We had a cold spell, with some gorgeous clear days, and not a breath of air moved.
The stillness of the Alaskan winter is a simply amazing experience – stillness so deep it seems that time itself hesitates, pausing so as not to upset the rhythm of nothing.
A rhythm of nothing? A rhythm of all things?
Stillness is the root of all that is, the space in time that allows for existence, the place for being. All life emanates from stillness.
It's pretty heavy stuff, and it hits you hard at 40 below zero in the wilderness.
Image taken high on a ridge, not quite above treeline, Wrangel – St. Elias National Park and Preserve.
Cheers
Carl