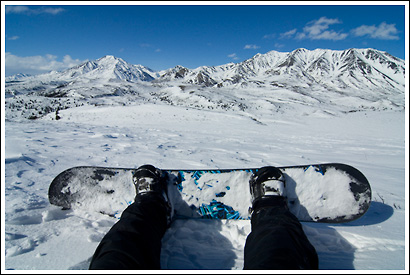 Hey Folks,
Don't look down. Snowboard champion, Carl Donohue, self-portrait. Or maybe that should be 'Snow Bored Champion'?
Either way, I set about trying to get some photos of myself riding my snowboard. You can see how steep this run was.
One way to tell how good a snowboarder someone is in photos is how much snow is on their pants .. from this clean pair of Marmot Liquid Steel Gore-Tex XCR pants, you get an impression of someone who doesn't fall down much.
Well, you might get that impression .. then again, you weren't out there watching me, were ya? 🙂
Cheers
Carl