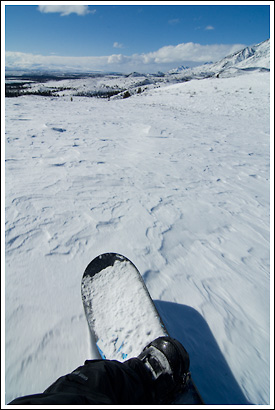 Hey Folks,
I've been practicing this one a bit. Trying to get a snowboarder's eye view of snowboarding. It's pretty hard. Well, I'll be honest – for me, it's really hard. Really, REALLY hard. I fell over more times than I want to admit. Certainly more times than I wanted to fall over. And the slope is a good bit steeper than the image appears, so I was moving pretty fast.
What's hard is lifting the camera to the eye without making a turn.
On a snowboard, like a skateboard or surfboard, one turns the board by turning the head and torso.
Every time I'd lift the camera up, I'd unconsciously turn my torso a bit, and the board would go with it, doing a 'heelside turn' effectively. Then I'd realize I was turning too far left, turn back the other way, doing a 'toe-side turn', over-correct, catch an edge and bust my ass.
Trying to hold my camera so it wouldn't hit the ground as I wiped out was a bit of a mission, but I've so far managed to do it OK.
I practiced a bit on some gentler slopes, but there's no substitute for the real deal. I'm rippin' along here at probably close to 75 miles an hour or so.
Maybe. 🙂
Cheers
Carl