Tag Archives:
wildflowers
Hey Folks,
Here's an image I took several years ago on a backpacking trek through the eastern Chugach mountains in Wrangell-St. Elias National Park and Preserve.  I finally got around to processing it today. The image is a compilation of 4 separate exposures, blended together manually in Photoshop.
This is from a backpacking trip we do from Iceberg Lake to Bremner Mines in Wrangell-St. Elias National Park and Preserve. It's a spectacular trek, and a real favorite of mine. Last summer, 2009, one participant did the trek with me for his 2nd time. We cross 2 glaciers, traverse 4 high alpine passes, and camp in some of the prettiest spots I've ever been to.
Summer's approaching quickly and I'm looking forward to trudging around the mountains again. I'll be heading over to Wrangell-St. Elias National Park this week to do some exploring, some photography and soak up some of the big mountain country. As such, I'll be gone for a while, but hope to have some new photos to post when I return, with some stories to accompany them. Following this next few weeks I'm heading up to the Arctic National Wildlife Refuge (ANWR) for 2 weeks on the Canning River. Then it's back to Wrangell-St. Elias for the rest of the summer, before 2 weeks in Katmai National Park in fall to photograph the great grizzly bear. That should be an amazing 2 weeks, for sure. Continue reading →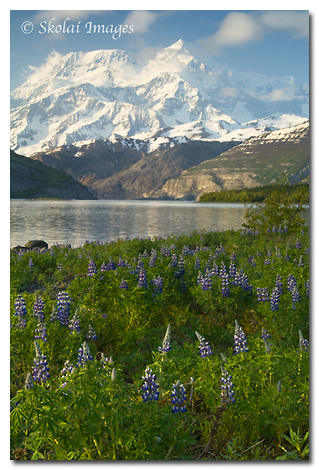 Hey Folks,
As I just sold a print of this photo yesterday, I thought it would fit with the recent postings from Mount St. Elias and a little chatter about the movie of the same name. This photo was taken from Icy Bay, from a small island I paddled out to in my now defunct and sitting in the Yakuat landfill sea kayak. The Nootka lupine (Lupinus nootkatensis) were pretty thick on this small island for some reason, much more so than anywhere else in the bay.
I'd have liked to stay on the island longer so I could take some photos in softer light, but Continue reading →