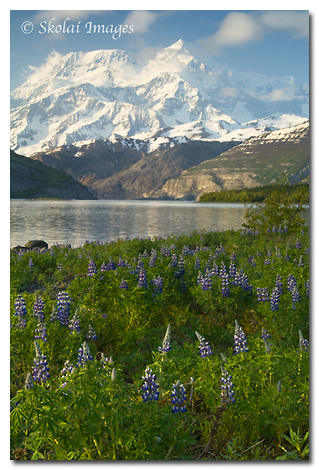 Hey Folks,
As I just sold a print of this photo yesterday, I thought it would fit with the recent postings from Mount St. Elias and a little chatter about the movie of the same name. This photo was taken from Icy Bay, from a small island I paddled out to in my now defunct and sitting in the Yakuat landfill sea kayak. The Nootka lupine (Lupinus nootkatensis) were pretty thick on this small island for some reason, much more so than anywhere else in the bay.
I'd have liked to stay on the island longer so I could take some photos in softer light, but a storm was rolling in behind me, from the south, and I thought it prudent to paddle back to camp on the beach before it struck. Weather in this area is infamous for its nastiness. For example, the folks who made the movie, Mount St. Elias, were turned back from their first summit attempt, close to the top, and had to rappel down over 4000′ to their basecamp, where they were stranded for days in a storm. Next they sit in a cabin on the Chitina River, 90 miles away, and wait for a break in the weather to permit their 2nd attempt – a wait of nearly 6 weeks.
This is pretty par for climbing on St. Elias. By contrast, I was watching another movie at the recent Anchorage Film Festival, "Year of Denali", about this group of folks who set out to climb 'The Great One", Mt McKinley. As they clambered back down from the top, and chatted about how awesome it was, one of the guides spoke of the nice day, and how, with such good weather, perhaps over 50 people stood on the summit that particular day. By contrast, fewer than 50 people have ever stood on the summit of St. Elias.
Just how rugged is this country? Well, nearby to Mount St. Elias stands Mount Logan, the tallest mountain in Canada. Exactly how tall it is wasn't even known until 1992, when a group from the Canada Geological Society explored the mountain and calculated it's now accepted elevation of 5,959 m or 19550'. Another example? In 2005, an avalanche of ice and rock collapsed off the face of nearby Mt. Stellar (10 617′ or 3 236m – named after naturalist, George Steller). The impact of that debris on the glacier below generated waves the equivalent of a 5.2 earthquake, and nobody even felt it.
Click on the image for a larger version, and look for a good line to ski down. I'll be at the bottom, on the beach of Lupine Island, with some hot tea ready for you, OK?
Cheers
Carl