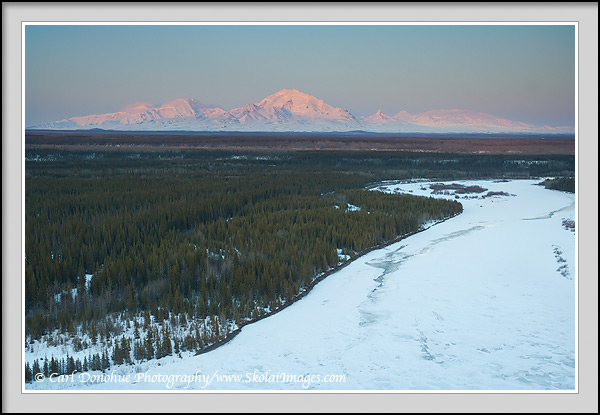 Hey Folks,
Here's a photo I took last spring, just at start of the season Alaskans call "breakup". This photo is taken from the roadside overlook just south of Glennallen, at Simpson Hill. Simpson Hill is rapidly disappearing, as the Copper River (in the foreground) erodes and cuts away at its base. Soon enough the spot may be known as "Simpson Mound". This is probably one of the very few (maybe 2) iconic viewspots for Wrangell-St. Elias National Park, the largest (and way coolest) National Park in the US. There are certainly many other grand views to be had, and amazing sites, but few that are so frequently photographed from.
The mountains, viewed from this spot, are simply awesome. From left to right, the mountains are Mt. Sanford, Mt. Drum, Mt Zanetti and Mt. Wrangell. Mt. Sanford is the highest of the 4, at 16 237′ tall. Next up is Mt. Wrangell, the broad round massif on the far right, at 14 136. Mt. Zanetti, the little "ski jump" looking cone that springs off Mt Wrangell, is 13 009′ tall, and Mt. Drum, front and center, is just over 12 thousand feet, at 12 010′ high. Those are some grand mountains. Most of the boreal forest in the foreground is white spruce, though there's a cool band of aspen or poplar in the middle of the frame that can add a vibrant yellow to this scene in  the fall. The mighty Copper River, defines the border of the National Park, running south to delta where it runs into Prince William Sound near Cordova. It's fascinating to see how the river changes throughout the year, raging a turbulent, roaring silt-laden brown in early and mid-summer, clearing up through late fall as it's volume decreases to a crystalline turquoise, to a frozen, ice-covered mystery in the winter.
It's a magnificent viewpoint, and it'll be interesting to see how it changes in the coming years, with the Copper River eating away so readily every summer. I was there last weekend, again, and noticed it's even eroded further back than it was in the spring.
Note to visitors: If you DO perchance go to Simpson Hill to get this perspective on Wrangell St. Elias National Park and the Wrangell Mountains, I'd recommend parking in the paved parking lot, and walking the 100 yards or so back over to the edge .. driving over the little gravel road/trail to the edge can easily get you bogged and stuck, as the soil there is way muddy, and your tires can readily sink into it's greasy depths. Not that this ever happened to me, of course .. 🙂 … but it can happen . so be careful up there. And hope you get some nice light. It's a great vantage point in the evening.
Cheers
Carl