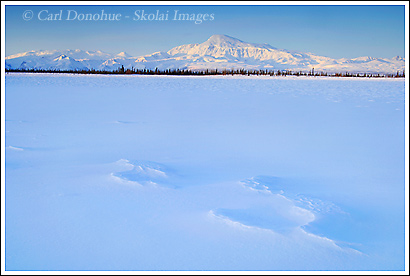 Hey Folks,
Here's another photo of Mt. Sanford from a recent trip to the north side of Wrangell-St. Elias National Park, Alaska. The park is basically accessible via 2 roads, one from the west that runs into McCarthy, and the other from the north, that runs south to Nabesna. Generally, I've always enjoyed the south side area of the park more, but I think the views along the road are often more impressive on the north side.  On a clear day, the Wrangell Mountains lie to the west and dominate the landscape. Mt. Sanford, pictured here, 16 237′ tall, is a great view. Mt. Wrangell, over 14 000′ tall, is also visible, and even a distant Mt. Blackburn can be seen from the entrance of the park.
This small lake is a fairly short hike off the road, and offers, in my opinion, one of the better viewing spots for photographing Mt. Sanford. I'll be keen to get back to it in early summer and hope for a nice calm morning and reflection of the mountain in soft dawn light. This photo here shows the windblown snow lying on top of the frozen lake – hopefully the lake will be thawed soon enough, the grass along it's shore greened up, and the clear skies still present. 🙂
Oh, just to be clear, I think the landscape on the southern side of the park is second to none; it's just that the road rarely offers much view, as it stays low in the thick spruce forest most of its way. Once you get to McCarthy, at the end of the road, the views are amazing.
Cheers
Carl