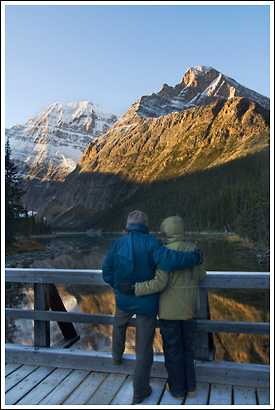 Hey Folks
Well, here I am in Banff. I'm still riding around the countryside with my parents, who give new meaning to the word "doddering". We've visited nearly every public toilet in western Canada, which has been a real treat. So far, I haven't had to unleash any violence, but I may resort to that medium of regulation sometime in the near future. My patience has been the mainstay of what stability we've managed to clutch. Dad doesn't listen, and mum mumbles; a potent combination.
Actually, they're doing OK, and I'm really enjoying showing them some of my favorite parts of the world. I'll post some more images along the way from our trip, including Denali, another bear or 2 from Katmai, and some of the stuff I shot in Wrangell St. Elias National Park while traveling with them.
Today, we got up early and headed up to Mt Edith Cavell, a Jasper National Park icon. The sky was absolutely clear, stars shining and we drove up the winding bumpy road to the parking lot near the lake. All bundled up in nearly 7 layers of clothing, they braved the frosty morning cold – the temperature was slightly below freezing, which is many, MANY degrees colder than what it gets at the beach where they live. We watched the light brighten up the sky, then gradually paint the peaks of Mt Edith Cavell with its warm rays. Simply a perfect fall morning in Jasper. A crashing noise came across the lake, and I looked over to see a white horse appear out of the forest; it had come down to drink. Soon enough it was joined by another white horse and a dark bay horse. It was really cool to see them, and I have no idea where they came from, or who they belong to, or what the story with them is. They were around for maybe 10 minutes then made their way back into the forest. Very cool!
Next we drove back down the mountain and enjoyed breakfast by Patricia Lake,, with Pyramid Mountain standing over the distant shore. Pretty sweet, if I must say so myself.
Then we headed south, stopping to check out Athabasca Falls, a very cool site, right by Mt Kerkeslin, one of the grander mountains in the Rockies. Truly a sentinel of the river valley, Mt Kerkeslin is a favorite of mine, for some weird reason. It's just an awesome mountain.
We saw the Columbia Icefield and also Peyto (pronounced Pee-toe) Lake, the most turquoise of turquoise lakes. Now we're camped near Lake Louise, and about to have dinner – veggie pasta and tomato sauce!!! MMMMHHHMMMMMM!!!! Nothing like havin my mum to do some cooking for me – its been a long time. Thanks mum.
OK .. I better sign off and get the table ready for some grub and eating. I'll be back later.

More photos from Alberta and the Canadian Rockies.
Cheers
Carl
PS- Just so I don't get in trouble for posting a photo of the back of my parents, here they are when I told them to turn around! I love you two!