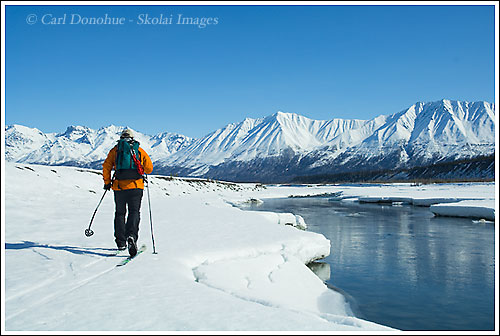 Hey Folks,
Cross Country skiing this spring along the Kennecott River. This is why they call this time of year (April)  "breakup". This spring was probably some of the funnest times I've had in a long time. What a great time and place!
You might notice my hip new Karhu 10th Mountain XCD backcountry skis. All I can say about 'em is these skis ROCK!!!
You might also notice I switched to a larger image here. I'll try to post slightly larger photos from now on. If it messes with the outlay of the site for you, please let me know; I'll probably not do anything to fix it, but it's good to know. 🙂
One thing that's interesting to note here is the river; within a few weeks of this breakup, the river turns to a raging, roaring brown mess, and remain that way for all of the summer. Most of the water is glacial melt, so it is full of finely ground glacial silt, which turns the water into a dense brown color. The clear water here becomes a faded, almost impossible memory until well after summer, when the cooler weather slows the melt down, and the water returns to a clear aqua.
Possibly the only thing cooler than this change is what happens at "freeze-up", in Nov/Dec. The water, for some reason, freezes from the bottom up; standing above it you can see ice formed underneath the surface, over the rocks along the bottom, while the clear blue water rushes above. Pretty mad stuff.
Cheers
Carl