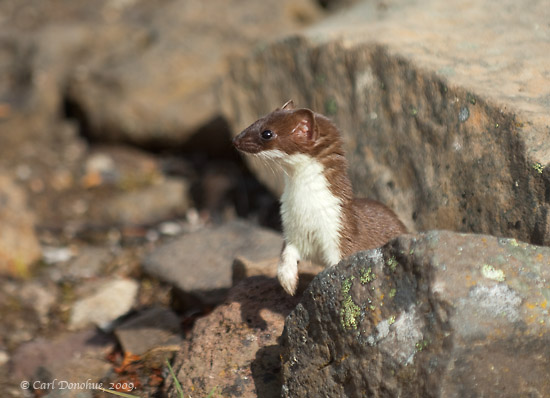 Hey Folks,
Here's one for you while I'm gone – gone off on a secret "end of season" retreat. I am super excited about this trip, but can't tell you much about it until I return. It should be awesome. Sooooo …
In the meantime, this photo is of a weasel (or ermine), from Skolai Pass. Member of the mustelid family, the Least Weasel is the coolest little critter . imagine a small, sleek ferret on crack. I've never tried to photograph an animal where I go so many images of his behind, as he raced off, or even with the animal completely gone .. this guy was SO fast, I barely managed to catch him at all .. the few moments he'd stop, look around, pose, and be gone, in a dash for cover. This photo is about 60% of the full frame version.
This photo was maybe a few hundred yards into our walk, so it was exciting. To be shooting a cool little guy like this within minutes of starting our trip was simply awesome. On the first day of our trip I managed to take my only images of a weasel from the park, my now favorite caribou image I've taken in the park, and my favorite image of Mt. Bona. And earlier in the morning we'd had some alpenglow on Mt Blackburn, as well. What a day.
So that's it for the weasel. He's running around Skolai Pass chasing voles, shrews and ptarmigan, and maybe the odd ground squirrel. I hope has a great winter, and is around to see again next year. What a treat it was for our group.
I'll be back early October.
Cheers
Carl