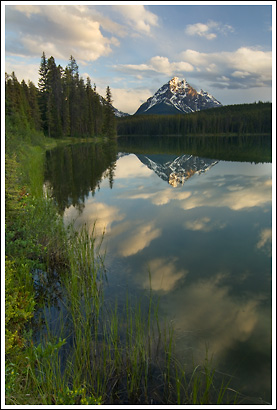 Hey Folks
This is probably my lastpost from here in Jasper – well, maybe .. we'll see about that. I'm expecting to scoot on outta here tomorrow, and head overto nearby Prince George, to meet some friends of mine there, then hit the long road up to Alaska. As much as I love Jasper, I haven't had a great deal of success here this summer. Once again, I arose at 4am, headed for my planned destination, and waited and waited in the cold morning air for the sunlight to strike the peaks. The sky was relatively clear, and there had been no breeze at all down at camp. So I left with high hopes for a good morning shoot.
However, some distant clouds seemed to block the early morning sun from the peak above me, and the wind had suddenly come up out of nowhere, so my morning was somewhat unproductive. I've yet to process any of the photos, but I don't think I shot anything worth keeping. I'll probably post them on Ron's site. 🙂
This evening I think I'll head up to Maligne Lake, and try to catch something there, though the wind's blowing constantly, so maybe that's not a good idea. Tomorrow morning I'll try to shoot some landscape photos, then hav a quick lunch and leave town. Of course, if you're smart that means it's probably a great idea to head to Jasper tomorrow afternoon and spend a few days in glorious light, and calm, still air. I wish you the best. 🙂
At least it hasn't been raining.
OK, enough from me. I'm outta here.
Cheers
Carl