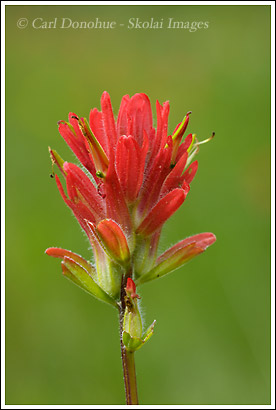 Hey Folks,
Here's a photo of an Indian Paintbrush, wildflower Castilleja miniata, from the Canadian Rockies, in Banff National Park. Banff National Park and the surrounding Greater Canadian Rockies ecosystem is a simply amazing place to photograph, with a myriad subjects to seek out and photograph. It has awesome mountain scenery, forests and montane ecosystems, sub-alpine and alpine regions, lakes and ponds, sloughs, rivers, glaciers, icefields, waterfalls, canyons, rockfaces, wildflowers, shrubs and grasses. Aspen trees, pine, larch, spruce, and so on. Wildlife photography in the area is probably some of the best in North America, second only (maybe) to Yellowstone National Park, which is just over a day's drive south. Elk, moose, caribou, mule deer, whitetail deer, grizzly bears, black bears, wolves, coyotes, foxes, bald eagles, bighorn sheep, mountain goats, to chipmunks, magpies and jays – a long, long list of subjects.
I think one of the hardest things to deal with as a visitor to Banff National Park intending to photograph the area is exactly that long list. What do you choose to spend your time and energy on. I've spent days and days in the area, particularly nearby Jasper National Park, and focused on elk in the rut, and each time I do, I'm always wondering in the back of my head, 'should I be up at Athabasca Falls shooting the canyon there', or 'maybe I should go look for bears up around Marmot Basin', etc. it can be maddening sometimes, though I do admit, it's a nice problem to have, and a nice place to ponder those questions.
This particular day I decided to not look for wildlife, but to shoot the things I inevitably hiked or drove by whilst I was looking for elk. That included this Indian Paintbrush, one of my favorite flowers – I think lupine are my other favorite.
One summer I'd love to just head down to the Canadian Rockies and spend a few months there, really exploring and digging deep into the region – it's simply awesome. And what could be better than fall, crisp cool weather, amazing colors, fresh snow and those bull elk roaring into the nights during the rut. Plus, the travelers have thinned out by then, which is always nice! 🙂 Kinda weird, I know, to be discussing traveling to Banff and wanting travelers to be gone, being that I'd be one, but c'est la vie, eh? 🙂
Cheers