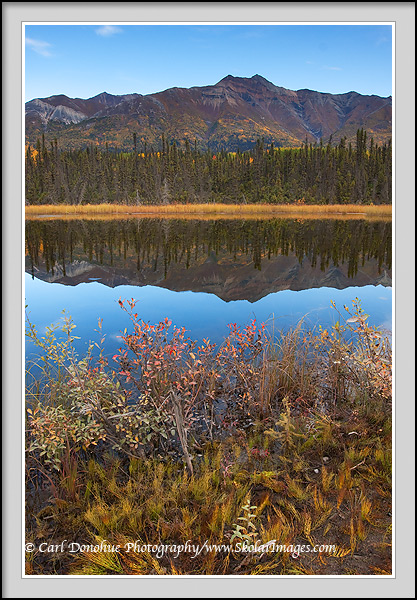 Hey Folks,
This one is for my buddy Mark Vail, who I know has to be getting a little homesick right about now. He's been gone from his home a few days.
"A few days??", I hear you ask, "that's nothing!"
Well, sure it is – to most people. But most people don't have this view by the trail to their crib, either. 🙂
Fireweed Mountain and a perfect reflection in a small pond, right off the McCarthy Road, taken this last fall, on the end of our Skolai Pass photo tour. Inclement weather suggested we fly out a day earlier than planned, and we made the best of the following morning (which was, of course, gorgeous weather) with some fall colors along the McCarthy Road. You might recall some scenes of Fireweed Mountain in the winter I posted in the past.
We commented on the difference between roadside photography and backcountry photography. One noticeable difference is how nice it is to pull up the vehicle at a likely spot, hop out, scout out some compositions and then start photographing, with the doors to the van wide open and some killer tunes from the ole iPod rockin' our world as we clicked and clicked away. I think we were listening to Emmylou Harris as we shot this, "Where Will I Be", from Wrecking Ball. Great album!
We actually had a great day shooting, and got some nice images – markedly different to the high open alpine stuff we'd been photographing up at Skolai Pass the day before. The contrast in scenery was fun, and the colors were great.
I'll try to mix in some more images from that trip here as I go through my new collection of bear photos from the recent Katmai trip.
Cheers
Carl