Tag Archives:
Naknek Lake
Hey folks,
Timing is everything; especially for photography. Being in the "right place" at the "right time" is critical to making the "right photos". So how, exactly, do we go about making that happen?
A million dollar question, I think.
One comment that we read and hear frequently, and I completely agree with, deals with knowing your subject. Knowing the behavior of an animal, for example, can help us predict where it might move to, what it may do, and so on. There's no question, in my opinion anyway, that the better you know your subject, the better the photo opportunities you'll have. Continue reading →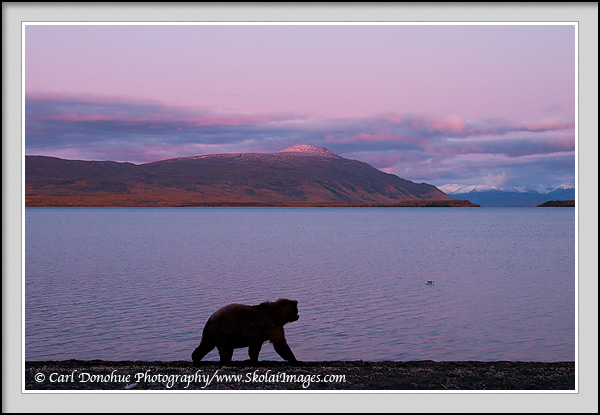 "People usually consider walking on water or in thin air a miracle. But I think the real miracle is not to walk either on water or in thin air, but to walk on earth. Every day we are engaged in a miracle which we don't even recognize: a blue sky, white clouds, green leaves, the black, curious eyes of a child — our own two eyes. All is a miracle." – Thich Nhat Hahn.
Hey Folks,
Well, with all the comments about landscapes versus bear photos on the last few pages, I thought I'd try a compromise. I know, I know, compromises end up pleasing no one, right? Well, so be it.
This is possibly the last photo I took on my trip last month, a sunset over Naknek Lake – I was hoping for some nice clear skies the following morning – and actually had a big sunrise – but then it clouded over, very soon afterward, and no good light was had for the morning shooting. Then I had to pack and get ready for the plane to come pick me up. The trip was all over too soon.
The photo is one exposure, so no real photoshop trickery – I even left the gull in the bay (@ Ron 🙂 ).
The real reason I wanted to post this photo was, honestly, a talk I went to listen to tonight, at a local bookstore, by a great Alaskan writer, Bill Sherwonit. Continue reading →