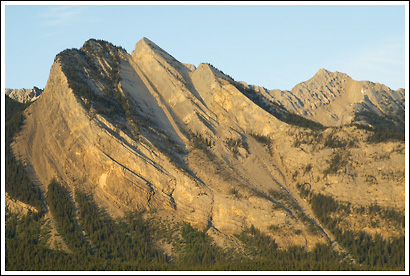 Hey Folks
Wow! Here I go and sy 'Ill try to update this journal more often, and then I go and don't post to it in 2 weeks. That's not too hip. Sorry about that.
I'm looking forward to heading back over to Wrangell St. Elias National Park in a couple of days. Hopefully the weather forecast will in incorrect (which has been to happen) and the sun will shine. We'll see.
I don't really have any specific to write about. This photo was taken one evening in the Canadian Rockies, in Jasper National Park. I believe this mountain is part of the Colin Range, but I can't be sure. I didn't take notes, like I should have, and now I can't recall. It's an impressive slab of granite though .. way cool. The evening sun lights it up nicely in the summertime, and makes it even more impressive.
I'll post a couple of grizzly bear photos in a few, just so I'm not outdone by Ron Niebrugge.
🙂
Cheers
Carl